Q&A with documentary filmmaker, Jason van Genderen of Coronavirus & Me, @OmasApplesauce, and Treehouse Creative
During the Q&A, Jason shares the meaning of the handle @OmasApplesauce (no, you can't find it in the stores), how the start of the pandemic and consequent shutdown of commercial productions led him to look inwards for inspiration for his next story, how the lockdown and going viral affected him and his family, and how that influences his mindset and his work moving forward.
At the beginning of the pandemic, as a documentary filmmaker who is always looking for the next story, Jason turned his curiosity towards his family and wondered how lockdown would affect them, their relationship with the outside world, and what impact that would have on his elderly mother, fondly referred to as Oma, who has Alzheimer's disease as well as vascular dementia.
One of Jason's best-known videos, the story about recreating a grocery shopping experience at home for Oma, was born from the need to help her regain a sense of her weekly routine.
Jason and his family found themselves having to explain to Oma multiple times how there was a pandemic going on, and repeatedly saying no to her–no we can't go out, no we can't take you to the shop, no we can't take you out for coffee–and decided that it was not fair to someone in her position who couldn't understand what a lockdown was, leading them to try to create these little magic moments at home that she could enjoy.
While he began making these videos as a way to help his mother cope with her routine being disrupted, as well as share fun little stories for friends and family, the video about grocery shopping at home went viral literally overnight.
It quickly racked up 30 million views worldwide, earned a shoutout from the Australian Prime Minister, and found its way onto The Late Late Show with James Corden, plus other media outlets from all over the globe.
As people began reaching out to Jason and commenting about how the videos touched them and their families, Jason realised, in his own words, that "I wasn't producing these stories as a filmmaker, I was producing them as a fellow human in the world."
Through the experience of going viral, Jason learnt a lot more about the documentary narrative and discovered how audiences respond to stories that are generated with a lot of heart.
He talks about how documentary storytellers, through their work, are given the opportunity to send a message of truth that effects change or awareness at a scale.
Jason found himself surprised by the level of interest in his mother's stories, which were even featured on Millennial-skewed websites like LADbible.
That level of interest offered him the opportunity to create more positive advocacy for carers, who are often treated as largely invisible and are socially isolated from their friends and family as they provide care for other people.
As a filmmaker, Jason also aims to empower other filmmakers by helping them realise that the phones in their pockets can serve as end-to-end production tools, from pre-production planning, all the way up to shooting, editing, and uploading.
His production company, Treehouse Creative, runs an iPhone filmmaking course for beginners, offering a range of training resources that help not only brands and organisations, but also individual storytellers who have powerful stories to tell.
Moving forward from this whole experience and his creative process during lockdown, Jason feels reinvigorated and needs to speak from the heart rather than the head; he looks forward to incorporating that in his work with brands and businesses that share the same core ideal.
He believes that the way people relate to one another, our habits, and what's important to us has changed, and asks how we can move forward and "live life with a bit more heart and with a little bit more intent and purpose than before".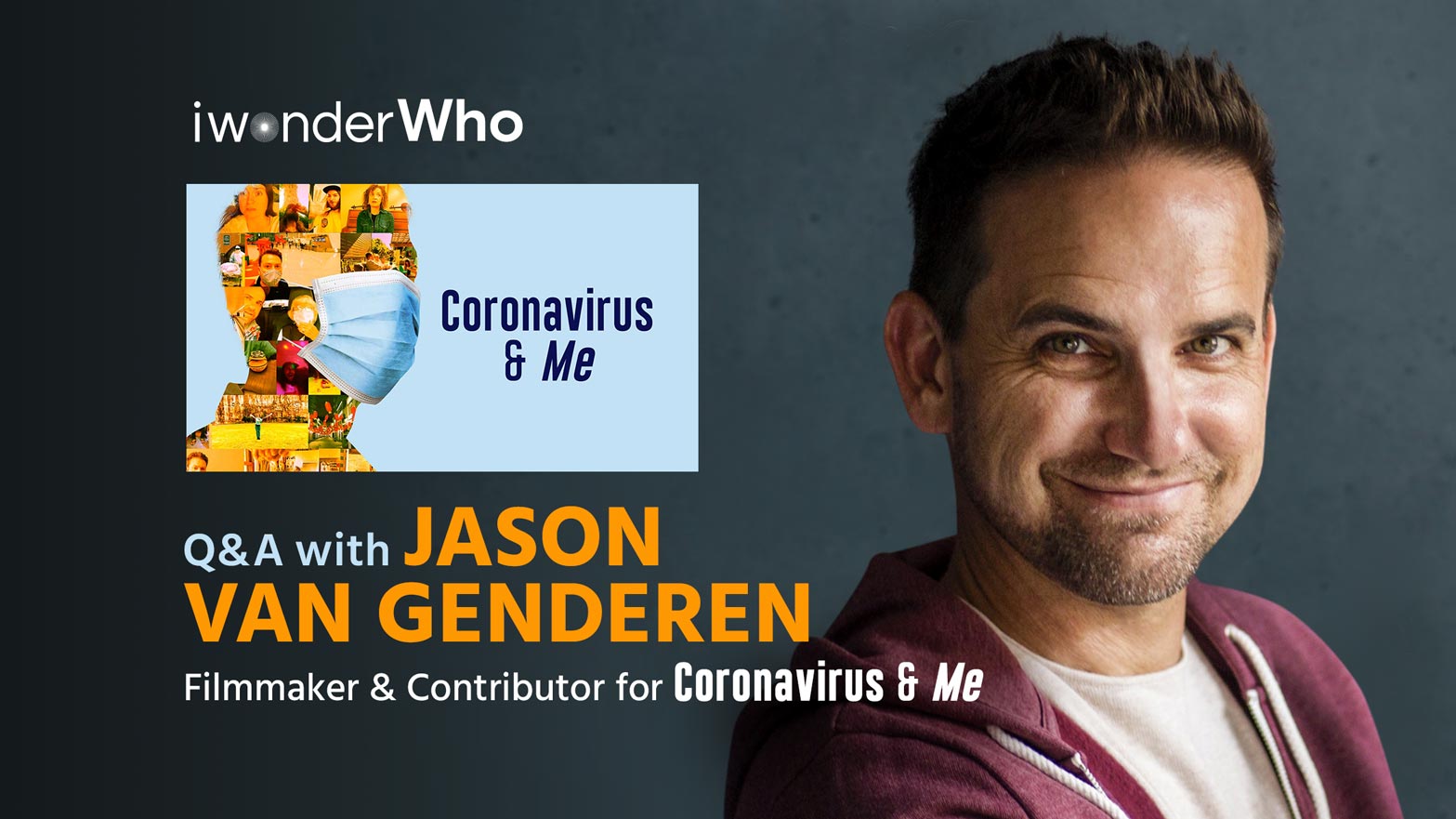 —
If you haven't already, check out Jason's videos in the original iwonder production Coronavirus & Me, available on www.iwonder.com, and iwonder's Facebook and YouTube pages.
You can also follow Jason on Instagram at @OmasApplesauce and @jasonvangenderen.
Comments