Keywords: Morgan Spurlock, Fast food, Health, Nutrition, Obesity, Corporations, McDonald's
Introduction:
The documentary 'Super Size Me', directed by Morgan Spurlock and released in 2004, takes an intimate look at the fast-food industry and its impact on health. In a world where convenience often trumps nutrition, this documentary provides a timely exploration of the consequences of a fast-food diet.
Synopsis:
'Super Size Me' follows director and star Morgan Spurlock on a month-long McDonald's binge. Replacing all his meals with McDonald's food, Spurlock tests the effects of fast food on his health, with shocking results.
More film analysis
Analysis:
The documentary has an investigative approach, as it delves deep into the fast-food industry's practices. Its research is thorough, and the personal experience of Spurlock adds a unique, participatory element. The presentation is engaging and thought-provoking.

Historical and Factual Context:
Prior to its collapse in 2001, Enron was one of the world's major electricity, natural gas, and communications companies. Its bankruptcy was one of the largest and most complex in history, leaving thousands of employees jobless and pension-less, and investors billions of dollars out of pocket.
Key themes in the film:
The impact of fast food on health.
The influence of corporate control on food choices.
The importance of nutrition education.
Film Comparisons:
'Super Size Me' offers a distinctive perspective compared to other health documentaries on iWonder, as 'Super Size Me' addresses the issue through the lens of fast food.
Noteworthy Moments:
One of the most significant moments in 'Super Size Me' is when Spurlock's doctors express their shock at the rapid decline in his health. This stark revelation underscores the detrimental effects of a fast-food diet.
Reviews:
The documentary received widespread acclaim from audiences and critics alike. It holds an IMDb rating of 7.2 and was nominated for an Oscar, among other accolades.
Conclusion:
'Super Size Me' is a must-watch for anyone interested in health, nutrition, or the influence of corporations on our food choices. Its eye-opening findings will make you rethink your next fast-food meal.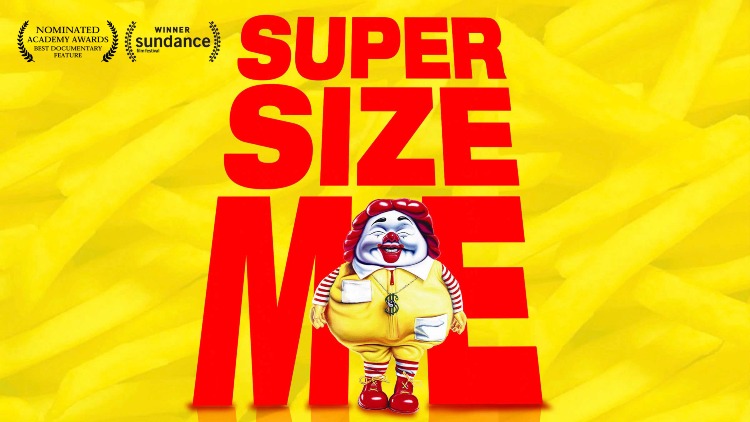 ---
More film information
💡
IMDB: 7.2
Awards: Nominated for 1 Oscar. 7 wins & 13 nominations: Academy Awards, Sundance Film Festival, International Documentary Association, Critics Choice Awards, Writers Guild of America, Vancouver Film Critics Circle

PERSONALITIES:
Morgan Spurlock: Director and star of 'Super Size Me'.
Dr. Daryl Isaacs: Spurlock's primary care physician during the experiment.

LOCATIONS:
McDonald's, USA: The fast-food chain where Spurlock consumed all his meals for a month.
New York City, USA: Spurlock's primary location during the experiment.
---
Links for further exploration
---
Key Questions Raised by the Film:
💡
How does fast food impact our health?

What role do corporations play in our dietary choices?
---
I wonder what the film would be in another art form: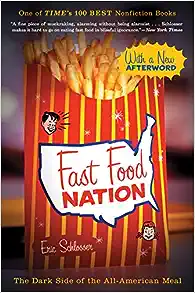 Book: 'Fast Food Nation' by Eric Schlosser, as it also explores the dark side of the fast-food industry.
Song: 'Eat It' by Weird Al Yankovic, a song that humorously addresses food consumption.
Art: 'The Last Supper' by Leonardo Da Vinci, symbolizing our relationship with food.
Celebrity: Jamie Oliver, a celebrity chef known for his advocacy for healthy eating.
Colour: Red, as it is often associated with fast food and signals danger.
Music Style: Rock, for its daring and confrontational style.
Comments