From the tragic deaths of Heath Ledger and River Phoenix, to the very public downfalls of Lindsay Lohan and Britney Spears.
The secret (and not so secret) lives of celebrities have long intrigued the general public, with countless magazines, interviews, paparazzi photographs, and of course documentaries promising to reveal the deepest, darkest secrets about some of the most famous people in the world. From A-list actors to chart-topping singers, their private lives have been subject to public scrutiny ever since their rise to fame.
In the 6-part documentary series Under the Influence, we discover the bad influences that have sent celebrities down the wrong path. Each episode investigates two infamous star scandals with a fresh perspective; looking at the negative influences and the contributing factors that lead to the wildest celebrity downfalls of all time.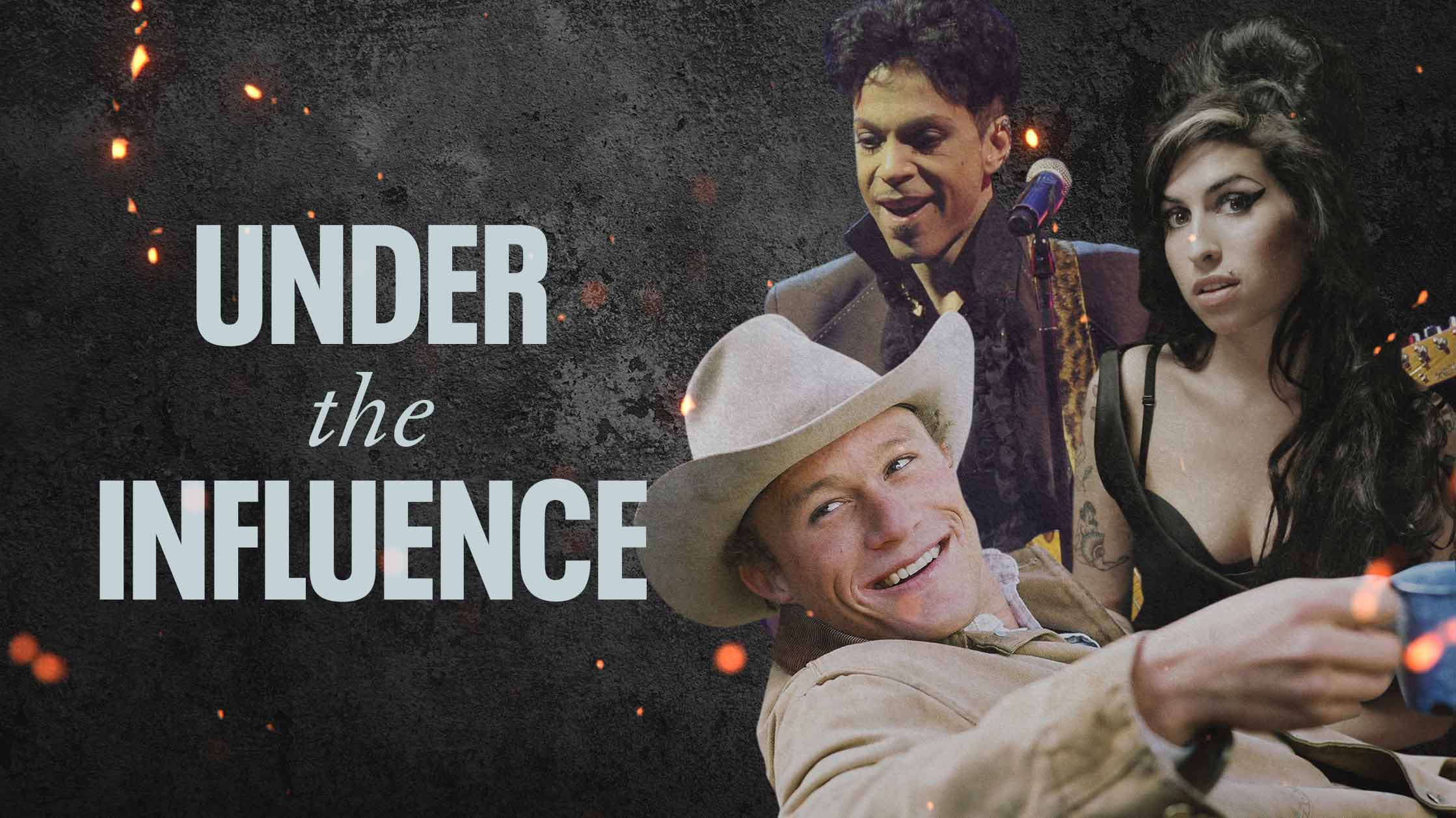 1. River Phoenix & Heath Ledger: Hollywood Outsiders
River Phoenix and Heath Ledger were both popular and talented young actors who earned early acclaim. But off-screen and behind closed doors, they were both spiralling. River was a troubled kid trying to keep up with a wild Hollywood crowd and Heath was anxious and uncomfortable in the spotlight that made him famous, leading to their untimely deaths.
2. Lindsay Lohan & Britney Spears: Tarnished Princesses
Lindsay Lohan and Britney Spears were new stars for the new millennium; talented, beautiful and troubled. Lindsay was a child star who could not only open a film, but also command a starring role. Britney was a pop phenomenon who outsold and outshone her contemporaries. However, a combination of early trauma and negative people in their lives set them both on a downward spiral.
3. Lauryn Hill & Amy Winehouse: Dethroned Divas
Lauryn Hill and Amy Winehouse, both musicians who rose to the top of the game, winning awards and selling millions of albums, before succumbing to destructive ways and sabotaging their own careers. This is the story of two divas who never met, but were both chewed up and spit out by the music industry they once dominated.
4. Philip Seymour Hoffman & Cory Monteith: Relapse and Rehab
Philip Seymour Hoffman and Cory Monteith were beloved actors who earned praise from their peers, but also struggled with managing their drug addiction and sobriety. Philip was ruled by his own compulsiveness and Cory was running away from a past that caught up to him, leaving them both engulfed in a vicious cycle of rehab and relapse.
5. John Belushi & Chris Farley: Tragic Comedy
John Belushi and Chris Farley were two larger than life artists who ruled the comedy roost. John was a rock star comic who took great risks for the reward of laughter. Chris dominated every stage and screen on which he appeared. One blazed a trail that the other would follow 15 years later, all the way to the bitter end.
6. George Michael & Prince: Isolated Icons
George Michael and Prince were both royalty in the kingdoms of music and pop culture, adored and idolised by legions of fans. George was an international man of mystery with a golden voice, and Prince was an innovator in every sense of the word. Their sudden deaths, occurring just months apart, shocked the world.
---
Sign up for your free trial on www.iwonder.com now to catch Under the Influence and more of the best documentaries from around the world. Film availability may vary according to country.
---
Comments