Screen time doesn't need to be a waste of time. Dive into these acclaimed culture documentaries to uplift your spirits and start the new year with.
Basquiat: Rage to Riches
53 min • Culture • 2018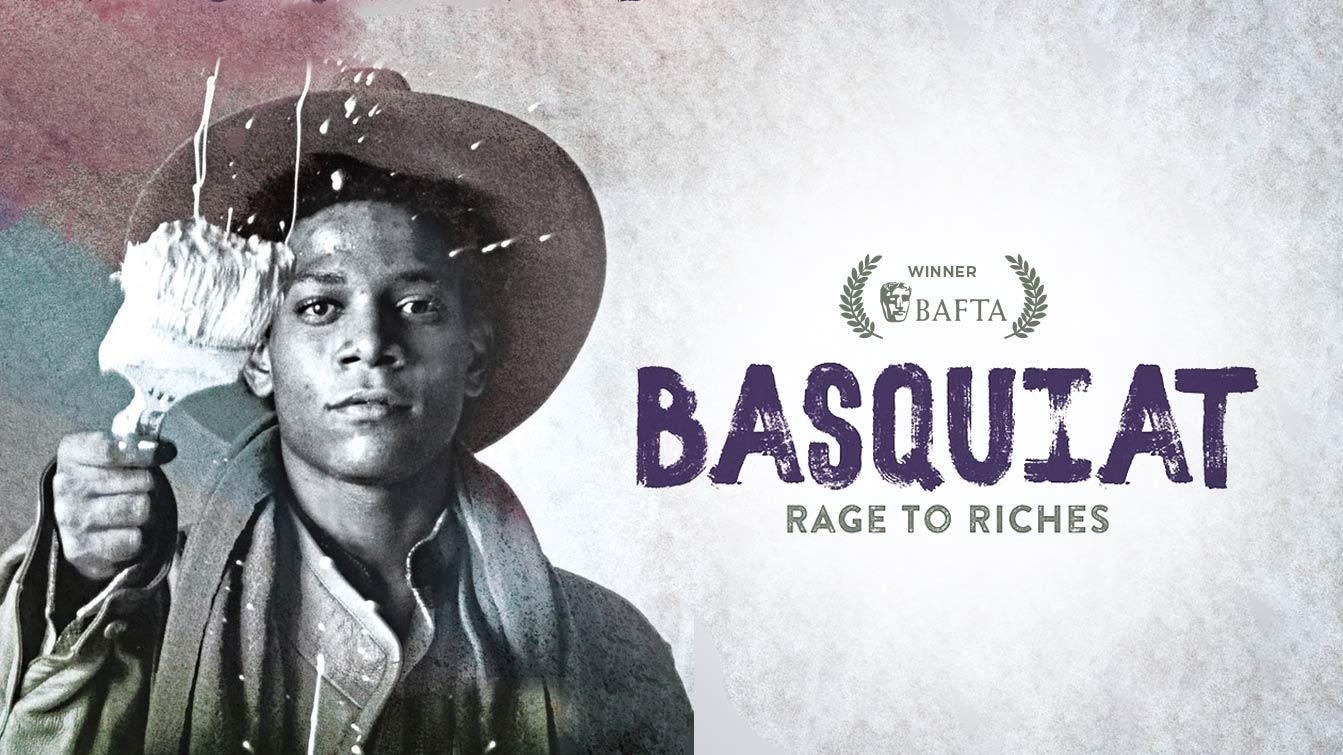 Basquiat: Rage To Riches explores the life and work of one of the great artistic legends of the 20th century. The film features exclusive interviews with the sisters of Jean-Michel Basquiat – Lisane and Jeanine Basquiat - who have never before agreed to be interviewed for a TV documentary about their brothers life and work.
With striking candour, Basquiat's legendary art dealers – including Larry Gagosian, Mary Boone, and Bruno Bischofberger - along with his most intimate friends, lovers, and fellow artists expose the cash, the drugs, and racism which Basquiat confronted on a daily basis. Basquiat blew up the New York art world with work that translated street energy into high art.
Raw, provocative, beautiful, child-like, spontaneous and full of references, Basquiat's paintings and drawings – a combination of scrawled shapes and crossed out words – seemed chaotic but were intensely purposeful, a means of processing his experience of being a Black man in a white world at a very particular point in history.
From the perspective of 30 years since his untimely death, this film also focuses on the legacy of one of the great artists of the 20th century.
---
20 Feet from Stardom
90 min • Culture • 2013
Millions know their voices, but no one knows their names. In his compelling new film 20 Feet From Stardom, award-winning director Morgan Neville shines a spotlight on the untold true story of the backup singers behind some of the greatest musical legends of the 21st century.
Triumphant and heartbreaking in equal measure, the film is both a tribute to the unsung voices who brought shape and style to popular music and a reflection on the conflicts, sacrifices and rewards of a career spent harmonizing with others. These gifted artists span a range of styles, genres and eras of popular music, but each has a uniquely fascinating and personal story to share of life spent in the shadows of superstardom.
Along with rare archival footage and a peerless soundtrack, 20 Feet From Stardom boasts intimate interviews with Bruce Springsteen, Stevie Wonder, Mick Jagger and Sting to name just a few.  However, these world-famous figures take a backseat to the diverse array of backup singers whose lives and stories take center stage in the film.
---
Janis: Little Girl Blue
103 min • Culture • 2015 • M
Janis Joplin was one of the world's most influential rock icons and a goddess of sound, but there was actually far more to her than that.
Academy® Award nominated director Amy Berg strips away Janis' rock 'n roll persona to reveal the raw, sensitive, innocent, uncensored and powerful woman behind the legend, in the quintessential story of the short, turbulent and epic existence that changed music forever.
Janis was a force of nature who mesmerized the world with her blues-style vocals. Her talent and magnetism is evident in never- seen-before footage. Janis inspired a generation, breaking new ground for the female rock singers who followed. Through turbulent love affairs and addiction, one constant remained: Janis was committed to her music above all until her heartbreaking death at the age of 27. Janis serves as the narrator for her own life story through letters she wrote to her family, friends and lovers.
Chan Marshall (also known as Cat Power) lends her raspy Southern voice to the film reading Janis' achingly intimate letters. Featuring a soundtrack of Janis' greatest hits – Cry Baby, Summertime, Piece of My Heart, and many more, Janis will join The Doors: When You're Strange, Marley, and The Stones' Gimme Shelter, in the pantheon of great music documentaries, by providing a glimpse into the private life and inner struggles of one of the world's most influential rock icons.
---
Ingrid Bergman: In her own words
114 min • Culture • 2016 • PG
Through never-before-seen private footage, notes, letters, diaries and interviews with her children, Ingrid Bergman: In Her Own Words presents a personal portrait and captivating look behind the scenes of the remarkable life of a young Swedish girl who became one of the most beloved and celebrated actresses of American cinema.
---
The Eyes of Orson Welles
114 min • Culture • 2016 • PG
Granted exclusive access to hundreds of private drawings and paintings by Orson Welles, filmmaker Mark Cousins dives deep into the visual world of this legendary director and actor, to reveal a portrait of the artist as he's never been seen before - through his own eyes, sketched with his own hand, painted with his own brush.

Comments